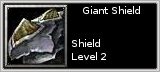 Shields are a good choice for trolls to reduce the damage taken in meele combat and provide some protection against missiles and spells.
Giant Shield
Category
Worth
Properties
Level 1
Armor,
15 Gold
60% to block up to 15 melee damage
Warrior, Hunter, Inventor
Shield,
Blocks a power hit every 15 sec
Invention
10% chance to reflect 2x damage and 1 sec stun
Tortoise Shield blocks up to 15 meele damage and is a good choice for trolls fighting in close combat. Additionally it gives the wearer a small advantage over ranged and spell attacks blocking them every 15 seconds. In addition, the shield spikes can hurt the enemy with 10% chance for damage x2 and 1 sec stun.
Shields CANNOT be used with ranged weapons and weapons who use the second hand (Torch). Does not block friendly fire, area attacks and power hit criticals
Production:
Building
Result
Composite Resources
Basic Resources
Source

Workshop

→
←
Plans for Giant Shield
←
Parchment
Inventor
←
←
←
Giant Tortoise Shell
Giant Tortoise
←
←
←
Wood
Jungle
←
Rope
←
2 Tinder
Basic Crafting