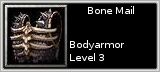 A chest armor reinforced with bones that provides good protection.
Bone Mail
Category
Worth
Properties
Level 3
Armor,
15 Gold
10 Armor
Warrior, Hunter
Bodyarmor
5% Powerhit Reduction

Bone Mail can only be used by the by Warrior, Hunter and other Trollodites and can be created in the Armory. For other classes different Bone Armors (lvl 1-4) can be created. Bone Armors can be upgraded to stronger Bronze Armors in the Armory.
Production:
Building
Result
Composite Resources
Basic Resources
Source

Snake Leather Coat

←
←
←
Snake Skin
Snake
Tannery
→
←
←
←
Antelope Leather
Antelope
←
Rope
←
2 Tinder
Basic Crafting
↓
Armory
→
Bone Mail
←
←
←
4 Bone
(animals)